Hue Vietnam is one of top most visited cities in Vietnam. And, this ancient city has the travel characteristic of cultural values in Nguyen Dynasty. In the article, Topsvietnam will show you a comprehensive travel guide including ideal months , amazing points of interests as well as famous dishes for Hue travel.
1. OVERVIEW OF HUE VIETNAM
---
Hue City is located in the narrow strip of Central Vietnam, which has great diversity in natural landscapes and historical culture. Therefore, Hue travel is a right choice for those who want to experience the ancient city.
Also, it is the center of culture and tourism of Vietnam, especially Huong river, passing through the city, giving this city a poetic beauty. Hue tourism is striking with the poetic beauty of charming Huong river, majestic Ngu Binh Mountain. Besides, people often think of ancient palaces and temples bearing the ancient emperors. Therefore, Hue City brings visitors the feeling of slow and peaceful life in Vietnam.
2. WEATHER IN HUE VIETNAM
---
When you plan to visit Hue, you should carefully select the appropriate time. Because the romantic Hue has also severe weather. Located in the central region, Hue gets two distinct seasons: the rainy season and dry season. The dry season in Hue which begins from March to August with hot and sunny weather reaches 38-40 degrees Celsius. In contrast, the rainy season in Hue lasts from August to January with the heavy rains and even storms. Temperatures at that time are quite erratic with the average of 20 degrees Celsius.
Due to the harsh weather, you have to follow the travel guide to pick the suitable time to enjoy Hue travel fully. Do not travel to Hue in hot months (May, June, and July). You may encounter many problems such as sunburn, or exhaustion … Another, you should not go to Hue during cold months (December and January). Because rainy days prevent you from visit various destinations in Hue. Also, it causes a lot of troubles in transportation and sightseeing.
So when is the best time to visit Hue?
August and September are 2 ideal months that give you perfect trip to Hue City. Because the weather is really fresh and cool, which make it easy for traveling and going through many places. Especially, many people consider that Hue is one of 9 best places to visit in Vietnam in April. The reason is that Hue Festival is celebrated in that month. Thus, the well-known event attracts a large number of foreign visitors.
>>> Discover Hue customized tour:
3. TOP  POINTS OF INTERESTS IN HUE, VIETNAM
---
Hue City is popular travel destination in Vietnam. Since this ancient city concludes various interesting places that you must know! Let's explore more!
– Cultural places
+ Thien Mu Pagoda
Thien Mu Pagoda is situated on Ha Khe hill, on the left bank of the Huong river. Being about 5km far from the west of Hue city, Thien Mu Pagoda is a famous spiritual destination in Hue. Along with the beautiful and ancient architecture, its mystical stories also attract the curiosity of tourists.
Source: Youtube
+ The Citadel of Hue City
The Citadel of Hue City is one of the most historic relics in the Hue Imperial Citadel. It is recognized by UNESCO as the World Cultural Heritage on December 11, 1993. This heritage is an attractive place of Hue that domestic and foreign visitors cannot ignore.
Source: Wikipedia
+ Tomb of Khai Dinh
UNESCO also recognized Tomb of Khai Dinh as World Cultural Heritage. Furthermore, the tomb also known as Ung Lang, is the tomb of King Khai Dinh – the 12th king of the Nguyen Dynasty. This is an architectural work inspired by modern European style and classic Vietnam features.
Source: Wikipedia
>>> Free Travel Guide: Vietnam Heritage 12 Days
+ Tomb of Tu Duc
Tu Duc Tomb was built in a narrow valley in Duong Xuan Thuong village (now in Thuong Ba village, Thuy Xuan commune, Hue city). It is in the middle of the pine forest. Regarding the imperial architecture of Nguyen Dynasty, Tu Duc Tomb is top beautiful work. Therefore, many tourists visit the tomb each year.
Source: Credit on pic
+ Tomb of Minh Mang
Tomb of Minh Mang is the outstanding mausoleum with harmonious architecture. Inside the tomb, there is a combination of paintings, poetry, and philosophy. In general, the majesty design and erotic scenery have shown the amazing and unique beauty of this tomb among other ones.
Source: Vietnammoi
+ Hue National High School
Hue National High School is an ancient school located on the banks of the Huong River. Thanks to this, this school has spacious space along with beautiful architecture and studious tradition in Vietnam. Since its foundation, Hue National High School is the reputable place for gathering and training talents for the country future.
Source: Dan tri
>>> Discover Hue customized tour:
– Natural places:
+ Huong river
Huong river appears like a smooth silk that gives a travel guide to many beautiful places. Flowing the river, visitors can travel to Vy Da garden, where there are many blooming flowers and green grass. Additionally, going downstream through Huong river, you can visit Thien Mu Pagoda to hear the ringing bell. Or, you also turn to Bach Yen river and go to Huyen Khong station that have many kinds of fruits.
Source: Ngu Van
Hue Vietnam beach
+ Thuan An beach 
Thuan An beach is a nice place that attracts a lot of tourists to come and bathe in the summer. Another, visitors can also visit Thai Duong shrine of the legendary Thai Duong goddess. And, you can also visit the temple of Am Linh that worships whales – a typical animal of the coastal people.
+ Lang Co beach
Lang Co beach remains quite pristine with fine white sand and clear blue sea. Therefore, this beach which is voted as top most beautiful bays in the world is famous travel destination in Hue. At the beach, there is Lang Co resort that delivers peaceful and fantastic view to travelers.
Source: Credit on pic
4. What to eat in Hue
---
Hue's culinary map is said to be extremely rich and special. Hue cuisine was praised by the world-renowned chef, and explorer Anthony Bourdain in his journey in Vietnam. Dishes of unique flavor are hard to find elsewhere. Today let's see more about delicious food in Hue and choose your favorite dish!
+ Baby basket clams rice (Com Hen)
Baby basket clams rice has become the traditional food of Hue people. In the past, the dish which came from the royal class was made for the kings only.  Then, this sophisticated food has got more popular and serviced to all kinds of people in society.
Baby basket clams rice is cooked from local ingredients: rice, baby basket clams. Also, It needs to be mixed with vegetables, peanuts, and some salted shredded meat. This makes the dish have rich and delicious flavor.
Address: Chi Nho Shop, 28 Pham Hong Thai, Hue
+ Ba Doi Rice Spaghetti (Banh Canh Ba Doi)
Located at the end of a small lane on Dao Duy Anh Street, Ba Doi Rice Spaghetti has no name. Doi in Vietnamese is Wait. Also, the shop operated with few staff, so guests have to wait a little bit to have their dish.
Source: Foody
The striking characteristic lies in special soup with the strong taste and natural aromas of shrimp. So rarely have guests missed the nice soup in the bowl of at Ba Doi shop.
Address: Ba Doi shop, 40 Dao Duy Anh, Hue
+ Hue sweetened porridge (Che Hue)
Source: Net Hue
Located in the lane on 29 Hung Vuong Street,  sweetened porridge shop has become a popular street food attraction in Hue. There are more than 10 kinds of sweetened porridge in each shop. They are stored in aluminum pot showing diverse color and flavor. Hence, these outstanding features make sweetened porridge looks attractive to foreign tourists.
Address: Che Hem, 29 Hung Vuong, Hue
+ Hue beef noodle soup (Bun Bo Hue)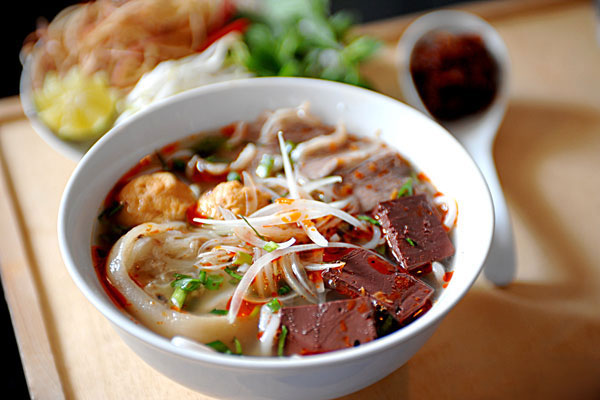 Source: 24h
Hue beef noodle is the soul of Hue cuisine due to the undeniable deliciousness and reputation of this dish. Most of all, Hue beef noodle soup has a piece of pork leg, a piece of self-grilled pork, and of course some slices of beef. Adding some vegetables may make the dish very fresh and easy to eat.
Address: Ba Xuan shop, 17 Ly Thuong Kiet, Hue
+ Tapioca starches with shrimp (Banh bot loc nhan tam)
Source: Vi vu Hue
When traveling in Hue, you have to taste this local cake named Tapioca starches with shrimp in Ba Do Shop. Another, the shop buys other traditional cake such as water fern cake, steamed rice pancake with shrimp or bloating fern tray…
Address: Ba Do shop, 71 Nguyen Binh Khiem, Hue
+ "Banh ep"
Source: Foody
It is a popular dish in Hue City. Because Banh ep is a companion of Hue students when becoming the ideal food after their school time. Cakes are served with fragrant knotweed and cucumber. You can use fish sauce or mix it yourself. Specially, the taste of finest flour and the fragrance of cake heart mixed together to give an amazing and unforgettable favor of this special cake.
Address: Chi Xi shop, 22/103 Nhat Le, Hue
Source: Zing
>>> Read more: 21 Must-eat street foods in Hanoi and where to find them 
4. HOW TO GET TO HUE
Air: Depart from Tan Son Nhat (Saigon) or Noi Bai (Hanoi) airport to fly to Phu Bai Airport (Hue).
From Phu Bai to the city center 15 km, so you can take a bus, taxi or rent a cyclo combined street view. 
Taxi fares from airport to city are approximately 250,000 VND (~12 USD) and a motorbike taxi should be around 120,000 VND. The airport also offers a bus service to cover the route and you can book this at the airport for 30,000 VND although it's not always running.
Cars: It takes an even day to travel from Hanoi or Saigon to the center of Hue if you choose to get to Hue city by car.
Train: From Hanoi or Saigon Railway Station to Hue, visitors spend 12 to 13 hours. 
Hue is an express stop on the main north-south train line between Hanoi and Ho Chi Minh City. The train station is located at the eastern end of Le Loi Road, on the south bank of the Ben Ngu River.
Express trains are numbered with an SE prefix, and local trains, which cost less but take a lot longer, are prefixed TN.
After seeing these useful Hue travel guides, you may feel fascinated by the overwhelming beauty of this ancient capital. Consequently, don't hesitate to explore this wonderful charm by joining WORLD HERITAGE HUE & HOIAN TOUR 5 DAYS.
Or if you want to add Hue Vietnam to your bucket list, let us design your wonderful Trip to Vietnam with Hue City. Contact Asianwaytravek.com now!
---
Hue Festival 2018
Hue Festival 2018 is a big cultural event of Hue City that is held every two years. 
themed "Cultural heritage with integration and development, Hue – one destination five heritage properties" will take place from April 27, 2018-May 2, 2018.
Hue Festival is one of the most anticipated cultural events each year, the 10th Hue Festival invites visitors from all over the world to experience the unique heritage of Vietnam's former imperial city. Elaborate performances will be staged at historical venues around Hue, including the Hue Citadel and An Dinh Palace.\
The event will be a chance to introduce to international visitors UNESCO heritages of the old capital of Viet Nam, including Hue Complex of Monuments, Hue Royal Court Music, Woodblocks of Nguyen Dynasty, Nguyen Dynasty's royal documents and the royal literature on Hue royal architecture.
During the six-day event,many side events will be held, such as the Hue Science Festival (organised by the Hue College of Medicine and Pharmacy), International Gastronomy Fair, beer carnival, International Trade Fair, Splendid Taste of Ancient Village in Phuoc Tich, traditional boat race on Huong (Perfume) River, kite festival, Tam Giang Lagoon Fantasy and Hue Poetry Festival.
You can also have a chance to ride a hot air balloon festival when visiting Hue City during the long holiday of Reunification Day (April 30) and International Labor Day (May 1).
 >>> Read most: Vietnam Festivals – The Ultimate 2018 Festivals & Celebration Bucket List 
HEADING TO SOUTHEAST ASIA?
Let  our local travel expert help you to create worry-free trip to Vietnam.
Asianwaytravel.com is a leading local tour operator based in Vietnam who specializes in customized private tours to Vietnam, Cambodia Laos and Thailand.
Whether you want to modify a tour package on the website or have an itinerary built from scratch, we can create an ideal trip for JUST FOR YOU.
WHY CHOOSE ASIANWAYTRAVEL.COM?
In addition to the benefits of all Asianwaytravel.com—booking handpicked hotels, transportation, excursions and more—customized tours offer a personalized experience. You decide where to visit, how long to spend and what type of accommodation suits you best.