Danang Vietnam is located at the center of three world heritages: Hue Imperial City, My Son Holy Land, and Hoi An Ancient Town. Thanks to that, Danang travel is a favorite destination choice for domestic and foreign tourists. In addition to natural attractions such as Ngu Hanh Son, Son Tra Peninsula or My Khe beach … this city is also home to a range of famous religious and historical buildings. Let's discover with TopsVietnam through the useful travel guide.
1. WEATHER IN DANANG
---
Danang has a tropical monsoon climate with high temperatures and less fluctuation. Due to its location in the middle of Vietnam, the climate is also influenced by subtropical climate in the North and the tropical climate of the South. Thus, Danang is divided into the rainy season (August to December) and the dry season (January to July).
Source: Zing News
From January to July, Danang has cool weather with 28-30 Celsius, so that time is ideal to travel. Therefore, top 8 best places to visit in Vietnam in March includes Danang. Especially, the best time to travel Da Nang is in June, July, and August. It is really convenient for sightseeing, traveling between destinations. Also, visitors should also travel to Danang in December, January. This month the weather is also very nice and convenient for outdoor activities with the average temperature is only 18 – 23 Celsius.
2. DANANG POINTS OF INTERESTS
---
+ Han River Bridge
It is an iconic place to remember when you plan to have a great trip to Danang. Han River Bridge is built on Bach Dang street, connecting between Hai Chau and Son Tra districts. The bridge was inaugurated on March 29, 2000, and became the huge pride of Danang people. As night falls down, the bridge with the sparkling beauty appears in the middle of the busy city. In particular, every night, the bridge turns 90 degrees around the center of the bridge for large ships to pass. This is the most attractive thing to say about this bridge.
Source: Youtube
+ Linh Ung Pagoda
Linh Ung Pagoda is very reputable in Danang, where the statue of Avalokiteshvara Bodhisattva is directly positioned to the sea. The location of the temple is very beautiful when the back is heading to the mountain and the face going to the sea.
Source: Du Lich Da Nang
Danang people say that, since the temple and the Buddha statue were built, the annual hurricane season was less than before. The storms approached and then changed their direction.
+ Ngu Hanh Son (Marble Mountains)
This famous attraction is 7km far from the center of Danang city. The mountains including Kim Son, Moc Son, Thuy Son, Hoa Son and Tho Son form Ngu Hanh Son populations. When choosing this amazing place, visitors can visit Huyen Khong, Van Khong, Van Nguyet Caves and Tham Thai Pagoda and the realms of the OTHER world such as A Ty Jail or Giai Oan stream … If you come here, you should also visit Non-Nuoc village at the foot of the mountain. This destination is famous for stone carving.
Source: Zing News
>> Discover customized tour:
+ Cu Lao Cham
Go to Cu Lao Cham brings you the feeling of peaceful atmosphere. You are even charmed by wonderful wildlife in the middle of a crowded Danang. Specifically, natural and poetic landscapes conclude Lao Island, Dai Island, Chong Island and Yen Island…. Visitors can experience the actual life of the fishing village and enjoy various specialties here. Alternatively, you can take a swim or participate in sports games such as windsurfing, sailing and scuba diving.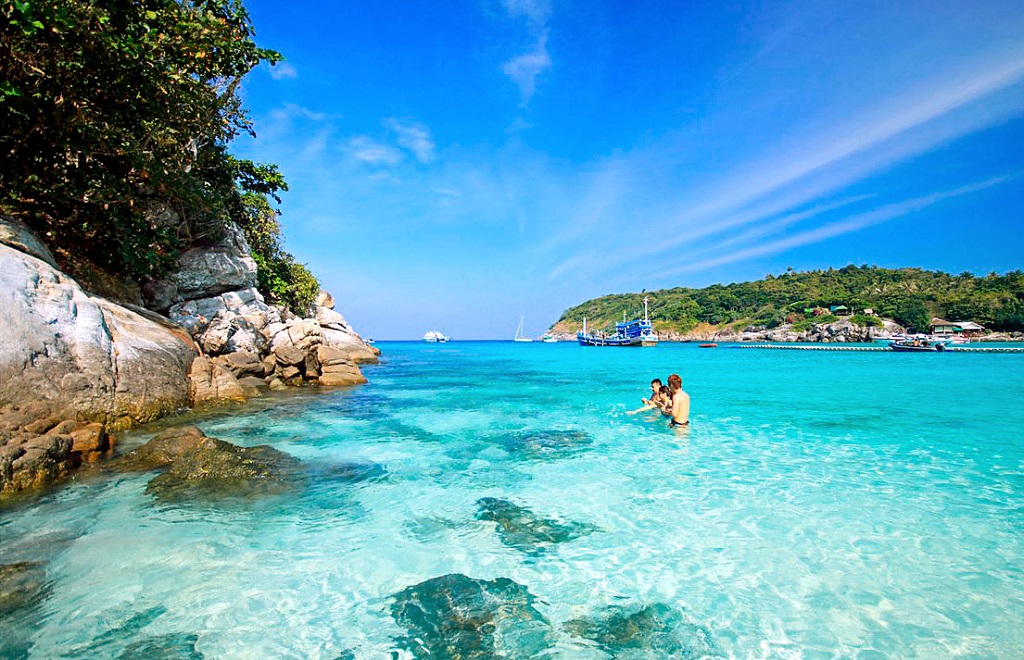 + Son Tra Peninsula
The next destination is compared to the pearl of Danang. Son Tra Peninsula location is about 10km northeast of Danang. At this place, you will experience exciting moments from the forest to the sea. Its beautiful beaches can be listed such as Da beach, Nam Beach, Bac Beach, Con Beach or Rang Beach.
Source: Dan Tri
+ My Khe Beach
My Khe beach was voted as one of the six most attractive beaches in the world. With a length of 900m, My Khe Beach is famous for its fine white sand and gentle waves along with coconut trees. These nice features are creating a wonderful scene and place for sporty activities. Around the beach, there are luxury resorts and famous seafood restaurants you can enjoy.
Source: Linkedin
+ Ba Na Hills
Ba Na Hills is located in the 40km southwest of Danang city. From that hill, travelers can admire the whole view of the city, the sea, and the vast fields. Going to Ba Na can not visit the statue of Duc Bo Su in Linh Ung Pagoda, Toc Tien Waterfall, or Fantasy Park.
Has been rising as the new symbol of Vietnam Travel, Golden Bridge in Ba Na Hills is such a sight to see when visiting Da Nang. With the two giant hands intruding from the mountain hill, when walking on the bridge, you'll have a sense of being on a delicate silk threat held up by the two hands of god. It's not exaggerating when we say Golden Bridge is the number-one thing to do, not just in Da Nang, but also in Vietnam right now.
3. WHAT TO EAT IN DANANG
---
+ Dong Tien Bread
At present, there are many Dong Tien branches scattered all over the city to serve the needs of customers. Dong Tien is known as the most famous bread brand in Danang with many different products such as cakes, cream cakes, dumplings … But the outstanding product that makes the brand is still bread. It has a variety of different filling such as grilled meat, char siu, sunny side up and Vietnamese Meatballs.
Address: Dong Tien Bakery – 113 Hoang Dieu Street, Hai Chau District, Danang
Time: 5h00 – 22h00
Source: Foody
>> Discover customized tour:
+ Seafood and its top restaurant
Regarding Danang cuisine, you will not be able to ignore the fresh seafood. Let's us introduce one best seafood restaurant in Danang with many amazing dishes.Most of all high-end seafood restaurants are located in Pham Van Dong Street and Truong Sa Street in Danang. 4U Bien Restaurant is one of them. It provides visitors excellent choice for diners full of fresh seafood.  Due to an ideal location in Danang beach, you can also feel the warmth of the sea breeze blowing along with the waves lapping the sandy shore.
Source: Foody
The dishes are attractive and aromatic ranging from grilled and steamed lobster, roasted crab with salt, roasted meats, groper, snapper … Furthermore, they add favorite foods including grilled shrimp, squid, oysters, and eel … Thus, tourists can choose the fresh seafood at the lake and make the request to cook them.
Address: Bau Troi Do Restaurant – Lot 9 + 10 Hoang Sa Street, My Khe Beach, Danang
Time: 8h00 – 22h00
+ Quang Noodle (Mi Quang)
Needless to say, everyone knows Quang noodles are famous dishes of Danang. The thick, big and tough noodles are features of the dish. Quang noodle does not have the fixed formula, but traditional noodle has shrimp, chicken, meat. In particular, the indispensable ingredients are roasted peanuts and crispy sesame rice cake.
Source: Foody
Quang noodle is eaten with vegetables such as cabbage, fresh lettuce, basil, bean sprouts, coriander. This helps to create the unforgettable taste.
Address: Xu Quang Noodle: 2 Phan Dang Luu Street, Hai Chau District, Danang City.
Time: 07:00 – 22h30
+ Nam O raw fish and vegetables (Goi Ca Nam O)
It is easy to eat, but few people try this dish because it is made from live fish. Nam O fish can be made from sardines and anchovy… but the most delicious fish is herring. Also, the sauce is unique to make the amazing taste.
Source: Dien dan am thuc
Vegetables mixed with Nam O fish include young leaves of forest ambarellas, tim lan, lanh nganh, la cham, la dung … They are mainly grown in Hai Van Pass. However, other vegetables such as cucumber, mango, banana … are often used to meet the increasing demand of customers.
Address: Thanh Huong raw fish and vegetables, 1029 Nguyen Luong Bang Street,  Lien Chieu District, Danang
Time: 10h00 – 22h00
+ Nem lui
Nem Lui is popular in many Central and South Central provinces. In Danang, people often eat spring rolls with crispy rice paper. At each local, Nem Lui has a different taste. Nem Lui in Danang is delicious thanks to the unique sauce. In particular, bamboo chopsticks are now being replaced by lemongrass or small sugarcane to grill Nam Lui in many restaurants. The dish is served with rice paper mixed with many kinds of vegetables such as cucumber, sliced banana, scallions, herbs, carrots, carambolas…
Address: Hong Shop – 318 Pham Cu Luong Street, Son Tra District, Danang
4. NIGHTLIFE IN DANANG
In the daytime, visitors can pick some recommended points of interests in Danang City. And, at night, where is ideal destinations for Danang lovers? Let's explore with TopsVietnam!
+ Dragon Bridge
Dragon Bridge is a large bridge that greatly contributes to the circulation of vehicles along the route from Danang airport to Non-Nuoc beach, My Khe … Thus, Dragon Bridge creates favorable conditions of movement for locals and visitors to Danang.
Source: Du Lich Da Nang
The most attractive thing to tourists at Dragon Bridge is the ability to spray the water and fire. On 21h00 Saturday and Sunday or major holidays, you can view this gorgeous scene at night. Let's take amazing photos and share them with your close people.
>> Discover customized tour:
+ Sun Wheel
This is one of the outstanding views for you by sitting on the Sun Wheel. Sun Wheel is currently in the top 10 highest wheel in the globe. It will help you see Danang sparkling night at an altitude of up to 115m. In addition to enjoying the Sun Wheel, you can visit and participate in popular games in the Asia Park entertainment complex.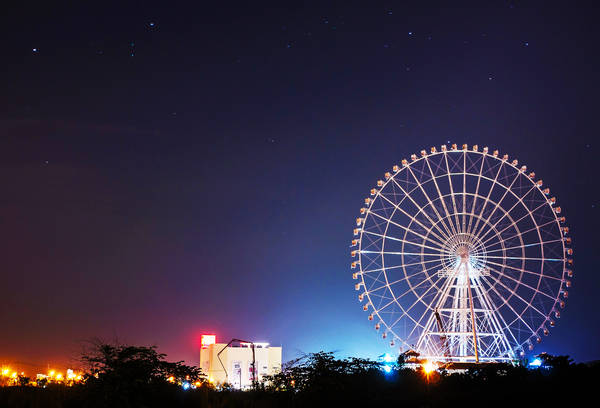 + Sky Bar 36 – The highest Sky Bar in Vietnam
The breathtaking bar is situated on the 36th floor of Novotel Danang Premier Han River Hotel. Here you can enjoy a cocktail along with the vibrant music. Also, you can be overlooking the beautiful view of the radiant city and gentle Han River.
Source: Sky36
Have you seen Danang really charming and interesting with so many great things to do? If you are ready for exploring this city, please pick our tailor-made tours by Asiawaytravel. 
HEADING TO SOUTHEAST ASIA?
Let  our local travel expert help you to create worry-free trip to Vietnam.
Asianwaytravel.com is a leading local tour operator based in Vietnam who specializes in customized private tours to Vietnam, Cambodia Laos and Thailand.
Whether you want to modify a tour package on the website or have an itinerary built from scratch, we can create an ideal trip for JUST FOR YOU.
WHY CHOOSE ASIANWAYTRAVEL.COM?
In addition to the benefits of all Asianwaytravel.com—booking handpicked hotels, transportation, excursions and more—customized tours offer a personalized experience. You decide where to visit, how long to spend and what type of accommodation suits you best.