Choosing to experience Vietnam in April is the smart choice that you can easily visit various places throughout three regions. Since Vietnam Weather in April is suitable and nice enough to have an amazing tour in Vietnam. Also, Vietnam landscape at that time looks really charming and attractive with beautiful sceneries. This ideal tour includes the best places in Vietnam in April that any tourists desire to have one. And, some of them are Hanoi, Hoian, Mekong Delta or Ho Chi Minh City. Let's see more!
What is the weather like in Vietnam in April? Is April a good time to travel to Vietnam?
April takes us towards the end of Vietnam's very peak season from a weather perspective as April is the last spring month before it starts getting hot and humid all over the country. However, this can come with the numerous advantages associated with lower visitor-numbers.
In the North:  The north of Vietnam in April is heading towards its hot and humid summer but it is still enjoyable summer as you can still expect plenty of dry days.
In the Central: Whilst the center still remains constant with the temperature between 25 and 33 Celcius degree.  Make it is still at the best time for beach activities.
In the South: the rainfall season starts to become more likely in the south but clear dry blue days are more prevalent.
What to expect in Vietnam in April?
The whole April month remains calm because most tourist attractions are by and large not as crowded as later months. However, in the last day of the month, April 30, is the celebration of reunification – the important holiday to Vietnamese people. Plus, the following day is the international labor day so everyone in the country will have at least 2 days off for the holiday.
But if you visit Vietnam these days, you can expect to see plenty of events and festivals in the big cities. 
What cities to visit in Vietnam in April?
We looked at airfare trends, Vietnam weather, and peak travel times to find the best places to visit in Vietnam April 2019 and hope you can find interesting places to add to your Vietnam itinerary in April. 
1. Hanoi
April is the perfect time to visit Hanoi in the most beautiful season. Because the weather is warm and pleasant, not too dry and cold. In this month, coming to Hanoi is a chance for visitors to experience the amazing and traditional Capital of Vietnam. It can be said that Vietnam travel in April in Hanoi is a collection of various spaces to give visitors a lot of sudden feelings, a little love, a little memorable time messed up with a little joy.
One of historical destination for travelers is Ba Dinh Square along with Ho Chi Minh's Mausoleum. The museum which is his final resting place recorded many stories about Ho Chi Minh's life. Also, One-Pillar Pagoda – an icon of Hanoi, constructed in 1049 resembles a lotus blossom.
In addition, you can take a time to drive through Colonial Hanoi, seeing the Opera House and other local sights. Especially, let's enjoy a beautiful Hanoi with 36 ancient streets by an electric tram tour or cyclo tour. Another, this is an ideal place to watch the local life with traditional kinds of stuff.
Recommended tailor-made private tour:
2. Halong Bay
Thanks to the clear division of weather, visitors can travel to Ha Long Bay at any time. However, summertime is certainly the best time to visit this famous bay. In detail, April is the nice month for not encountering hurricanes and enjoy a relaxing environment. Therefore, Ha Long which is the top best places in Vietnam in April attracts a large number of international tourists to come here for sightseeing and relaxation.
Here are some wonderful attractions in Ha Long Bay that we would recommend:
+ Co To Island
Traveling to Co To island, you will have valuable time to see beautiful coral reefs. And, tourists can take a boat to the island and bathe here. Co To Island almost holds the wild appearance seen in the busy atmosphere of Ha Long tourism.
+ Tuan Chau Island
It is the most beautiful island among 1,969 islands in Ha Long Bay. In addition, this is also the largest artificial beach in Vietnam. Cozy beach with white sand dune is an ideal place to have fun and participate in exciting water sports.
---
Recommend tour to Halong:
 Hanoi – Ha Long – Ninh Binh Tour – 4 Days
---
3. Sapa
Sapa is a unique tourist destination from other attractions. If you have to say the best time to travel to Sapa, it will be difficult to give accurate answers. Because Spring – Summer – Autumn – Winter are 4 suitable seasons for visiting Sapa.
April every year is the perfect period to experience an attractive Sapa. The climate in Sapa, Lao Cai that month is relatively sunny at day and cold at night. This also explains why Sapa welcomed a huge number of visitors at this time.
Besides, Sapa is filled with flowers and green fields. When coming to Sapa, you will see many kinds of colorful blossoms. The scenery in Sapa is as beautiful as heaven in wild Sapa.
When you choose a perfect tour of Vietnam travel in April in Sapa, you will see marvelous pictures of terraced fields stretching from deep valleys to the hills top in the middle of the sky. At that time, indigenous people bring water from the streams to the fields, then buffaloes plows. It is time for them to start a new season. It is also the beginning of the terraced field season, which attracts a lot of visitors.
---
Recommended Tours:
Hanoi – Halong – Sapa Tour 7 Days
---
4. Ninh Binh
Wanna walk in a fairyland with thousands of cabbage white butterflies flying in line? Then come to Cuc Phuong National Park in the late of April to the end of May. 
With caves, thousand-year-old trees, and animal rescue sanctuaries, the seasonal presence of butterflies between the end of spring and the beginning of summer is just one of many reasons why the park is attracting visitors from all over the country.
5. Hue
April is considered as the month of suitability. It is due to the reasonableness of time with typical events and tourism activities. For examples, we have Hung King, 30-4 and 1-5 holidays creating a festive atmosphere in Hue. Therefore, the best places in Vietnam in April are always having Hue.
Especially, a part of the Hue Festival- the hot-air balloon festival will bring together colorful balloons from many countries in the world such as India, Japan, Malaysia, the Netherlands, the Philippines, South Korea, Thailand, the UK and Vietnam.
You can pay VND 6 million (US$270) for a flight of between 30 to 45 minutes or five kilometers at around 150 meters above the former royal city or a three-minute flight at the better price ( VND150,000 a person),  but that only brings you up and down.
Hue turns into the summer in that month, so the temperature gradually increased a little bit. During this period, sea tourism and eco-tourism are ideal picks for travelers.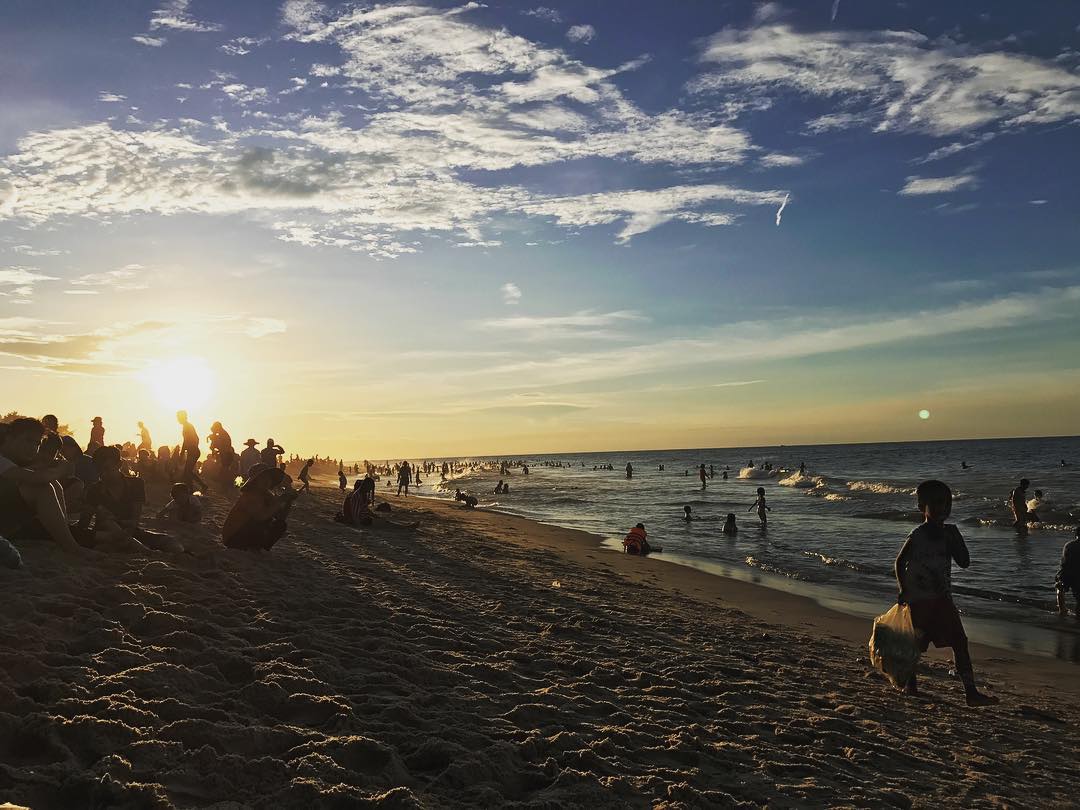 Guests can go to Lang Co beach to soak in the cool water and enjoy the beautiful scenery.
Another, Hue will bring you wonderful experience of discovering more about culture and history here. Let's take a historical tour of visiting the Imperial Citadel & Thien Mu Pagoda. The Imperial Citadel retains a feeling of the magnificent past, along with stonework and pavilions. Next, Thien Mu Pagoda, located on the riverbank, has been regarded as the symbol of Hue. It is now still a site of Buddhist worship.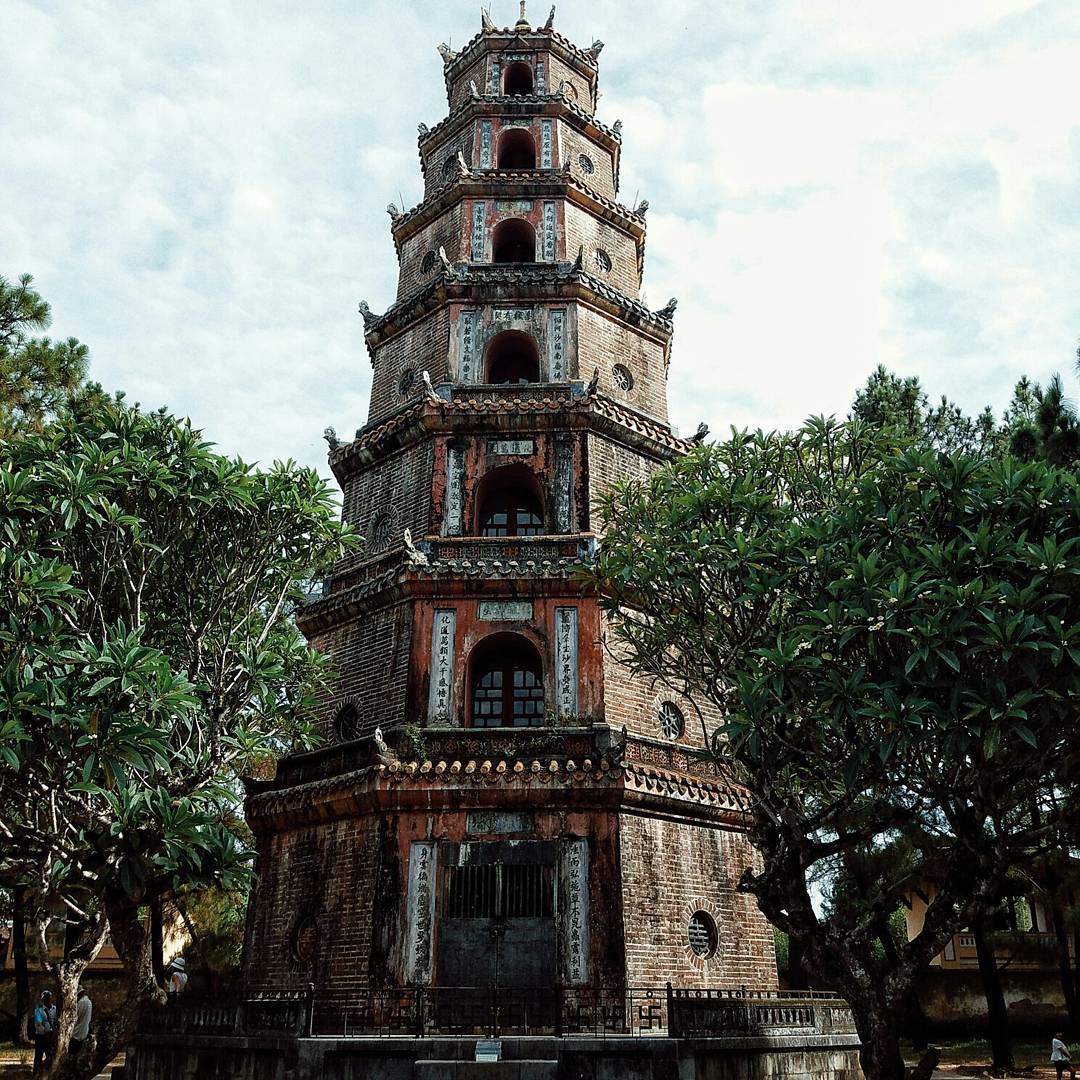 Source: Thanh Duy Nguyen
---
 Recommended private customized tour:
 World Heritage Hue-Da Nang- Hoian Tour – 5 Days
---
6. Da Nang
The weather in Da Nang is quite good in Vietnam travel in April while the average temperature is 27-29oC. This is an ideal time for travelers to make a trip to this beautiful city. Never choose the rainy season from August to December each year.
Da Nang's festive period is from February to April. Visiting Danang during this time you can participate in many famous festivals such as:
Cau Ngu Festival after Lunar New Year. This is a typical festival of fishermen to show respect for the whales, which are the animal they respect greatly.

Danang International Fireworks Festival: April 30 – May 1 every year. The first festival was held in 2008 and quickly became one of the most anticipated festivals that attracted many visitors to Danang, including international ones.
Thanks to natural advantages, there are also many famous sights like Ba Na – Nui Chua, Son Tra Peninsula, Ngu Hanh Son and many beautiful beaches. Therefore, Da Nang has become an ideal destination for all visitors. Besides, Danang tour always brings an unforgettable experience to visitors.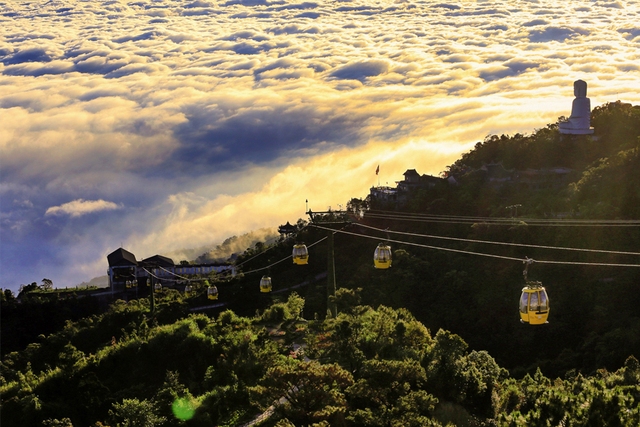 7. Hoi An
After traveling to Hue or Danang, don't forget to visit our amazing Hoian ancient city – a key destination in Vietnam travel in April.  It is now a UNESCO World Heritage Site for its well-preserved highlights including centuries-old streets, dwellings, temples, and pagoda.
What you'll see there will reveal much about the lives of Hoi An merchants a long time ago. Another joyful activity to do in Hoian is joining the workshop of a traditional lantern maker – iconic handcrafts for this city; meet the artisans and learn your skills to create your own lanterns and take them home.
If you are looking for the best beaches in Vietnam in April, then Danang, Hoi An beaches would be a perfect choice for a beach vacation as it has pleasant weather, calm sea, less touristy and perfect for sunbathing. 
8. Ly Son Island
Ly Son has two main islands: Lon Island and Be Island. Ly Son Island is the place where the ship from Sa Ky port (Quang Ngai province) will dock. It includes two villages: Dong Village, Tay Village. Likewise, Be Island is a nice destination for visitors to bathe and dive for seeing the coral reefs.
At Ly Son Island, April is the peak season with a huge number of tourists. Beautiful weather makes convenient for everyone to have a nice trip here and fully see the beautiful landscape.
There is one traditional festival in April called the Ceremony of Hoang Sa soldiers held in An Hai village.
According to the records, in the early 17th century, when Nguyen Dynasty came to the south, they set up the Paracel group cum Bac Hai in An Vinh and An Hai villages now in Tinh Ky commune, Son Tinh district, Quang Ngai. 
Accordingly, there will be 70 male soldiers selected to join Hoang Sa team. At the beginning of the 19th century, the militia in Hoang Sa team was assigned this responsibility of surveying the sea lanes, setting up steles, landmarking and collecting the produces in Hoang Sa and Truong Sa. The period begins from February to August in the lunar month.
Source: Nhan dan
Before on duty, the families on Ly Son held a ceremony to Hoang Sa soldiers to encourage the elite children of the homeland because of their sacrifice to the country. At present, their names who died for the island peace are recorded. Also, this ceremony was held in An Hai village on 18-19-20/3 yearly in the lunar month.
9.  Floating Markets – Mekong Delta
Mekong Delta is the fruitful land of the whole country. The tourism in April here delivers a warm space for human beings to see a typical and charming ecological landscape. These are long rivers, various fruits with the fresh environment and rich natural resources etc. Especially, when traveling to Mekong Delta or Can Tho in detail, Cai Rang floating market is the top most visited place for tourists.
The highest peak of the market is around 7-8 am. Also, due to the demand of locals, there are not just agricultural products, but also many other services are traded such as pho, noodle, coffee, floating pub … The boat service (usually small boats) is used to ferry customers for shopping and visiting.
Cai Rang floating market helps to preserve the cultural beauty of the Mekong Delta.  And, it is becoming a hot destination to explore and experience Western Vietnam life.
---
Discover Mekong Delta with customized tour:
---
10. Ho Chi Minh City
Ho Chi Minh City has two distinct seasons: the rainy season from May to November, dry season from December to April. If you come here in rainy season, you should bring umbrellas or raincoats when coming out. However, we do not recommend visiting Ho Chi Minh City that season because Saigon is famous for the sudden rains. Rain and then stopped, stopped and then rain. In addition, Ho Chi Minh City tops best places in Vietnam in April to visit due to full of sunshine. It is estimated that there are 270 hours of sunshine per month, average temperature 27 ° C, highest up to 40 ° C but not as harsh as other places. 
+ Cu Chi Tunnels
Cu Chi tunnels are about 70 km northwest of Ho Chi Minh City. This was where the miniature battles of Cu Chi and the locals used as the shelter in the Vietnam war over 30 years. Cu Chi tunnels are now admired by underground large construction, with many layers and niches like spider webs. Also, the tunnel had accommodation, meeting and fighting place with a total length of more than 200 km.
Source: Internet
+ War Remnants Museum
Travelers will feel the truth of fierce wars, to further appreciate what you have in the present time. Exhibits such as airplanes, cannons, tanks, guillotines and "tiger cages" were built as the same size in Con Dao prison. There is also a photo gallery on the Southwest Frontier War, the Northern Frontier War, the issue of the Truong Sa Islands…
Source: Internet
+ 

The Independence Palace
The Independence Palace is designed in accordance with Feng Shui and Oriental architectural style. Visiting Independence Palace, visitors can see many historical items from the old regime as well as the evidence marking the independence day of Vietnam – 30.4.1975.
+ Saigon Notre-Dame Cathedral
This cathedral is located in the center of District 1, Ho Chi Minh City. Church area clearly shows the "personality" of the city. Saigon Notre-Dame Cathedral is an architectural masterpiece that is unique and attractive to Saigon. Over the years, Notre Dame Cathedral still exists in the heart of Saigon, keeping the beauty of the Western design style. If you have the opportunity to travel Saigon in April, tourists do not miss the opportunity to visit these impressive works.
Source: Zing News
---
Recommended customized tour:
 HCM City – Cu Chi – Mekong Delta Tours – 4 Days
---
We already recommend top best places in Vietnam in April for tourists. When traveling to Vietnam, you should try to visit these must-sees to understand more about our various histories and cultures in every single area.
HEADING TO SOUTHEAST ASIA?
Let  our local travel expert help you to create worry-free trip to Vietnam.
Asianwaytravel.com is a leading local tour operator based in Vietnam who specializes in customized private tours to Vietnam, Cambodia Laos and Thailand.
Whether you want to modify a tour package on the website or have an itinerary built from scratch, we can create an ideal trip for JUST FOR YOU.
WHY CHOOSE ASIANWAYTRAVEL.COM?
In addition to the benefits of all Asianwaytravel.com—booking handpicked hotels, transportation, excursions and more—customized tours offer a personalized experience. You decide where to visit, how long to spend and what type of accommodation suits you best.